Electrical safety is Central's top priority and this includes teaching the dangers of electricity to children in our communities.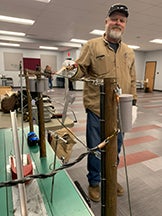 Be Safety Smart works with schools to give elementary students a better understanding of how to stay safe around electricity from Central's very own linemen.
"Everyone enjoys the many conveniences of electricity, but too often it is taken for granted, and we forget how dangerous electricity can be," said Jeff Denton, Central's Safety Director. "Be Safety Smart emphasizes these points and introduces the students to some of the equipment that linemen wear on the job."
Learn more about the Be Safety Be Smart program here.