To sign up for Commercial Service, you will need:
To pay a one-time $50 membership fee

To complete the membership application, by clicking the link below: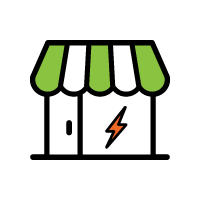 Business/Non-Residential Membership Application
If you need electric service at a location which already has electric service, or has a meter pole, meter pedestal or a meter on the home or building, Central can usually reconnect your service by the next business day. Call an account representative at 405-372-2884 to request a service reconnect. Please have the service address or pole number available when you call. If service equipment is not at your location, then we will need to construct distribution lines to serve you.
Construction of a new service may require several weeks to complete, depending on the length and complexity of the job. The following activities must be completed to provide you with the new service.
Contact Central at 405-372-2884. Our account representatives will explain the initial application process and setup a time for you to meet with our field representative at the new service location. The field meeting may be scheduled from 1 to 2 weeks after the initial contact.
Construction cost for new services is governed by Part IV of the Central Terms and Conditions of Service, which is approved by our Board of Trustees.
 
Our field representative will meet with you at the service location to determine the meter location, line route, service capacity and other construction details. Please have your site plan and electrical load requirements with you at this meeting. The representative will also provide you with easement forms, membership documents and other information that must be completed before construction can begin.
Please return all payments, forms, easements, permits and other documents as requested by your Central representative. After the field representative has completed the construction drawings and received your documents, your new service will be scheduled for construction.
Phases of the construction process:
Project timelines often take 6-8 weeks minimum and can vary depending on the complexity and scope of work necessary to successfully complete the job. Expectations or circumstances outside the scope of these timelines should be communicated during your initial conversation with the field representative.